CRC-TRR 228 Future Rural Africa researcher Fenny Ndapewa Nakanyete (Project C01 Future in Chains; middle) was part of the panel of the opening day roundtable at ECAS 2023. The event began with welcome addresses by Prof. Dr. Axel Freimuth, the rector of the University of Cologne, Prof. Dr. Michael Bollig, Speaker of the CRC-TRR 228 Future Rural Africa and the Global South Studies Center (GSSC), which locally organised the conference, as well as Prof. Dr. Amanda Hammar, the president of AEGIS, the organization conducting the conference every two years. Then, the panelists discussed the following: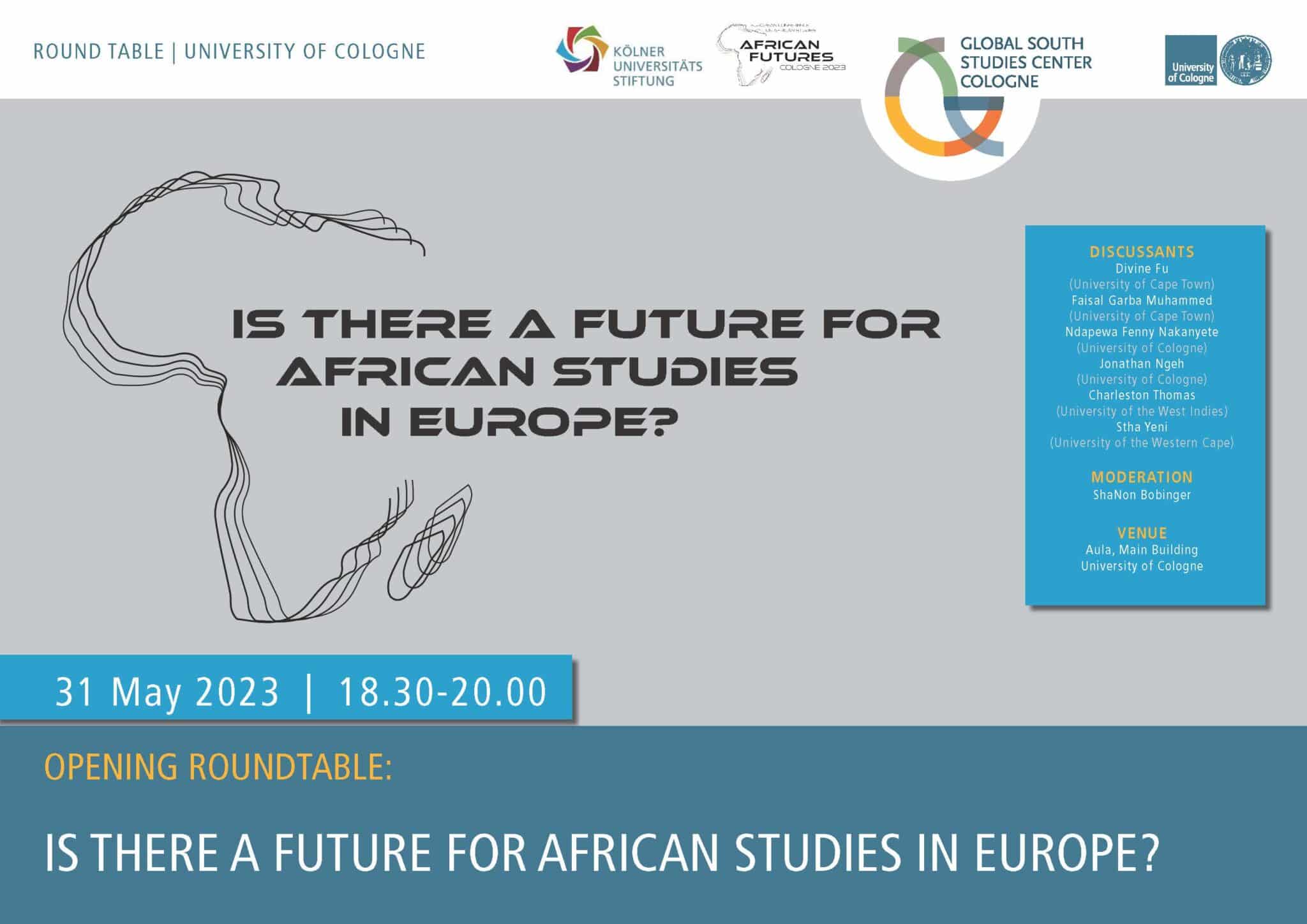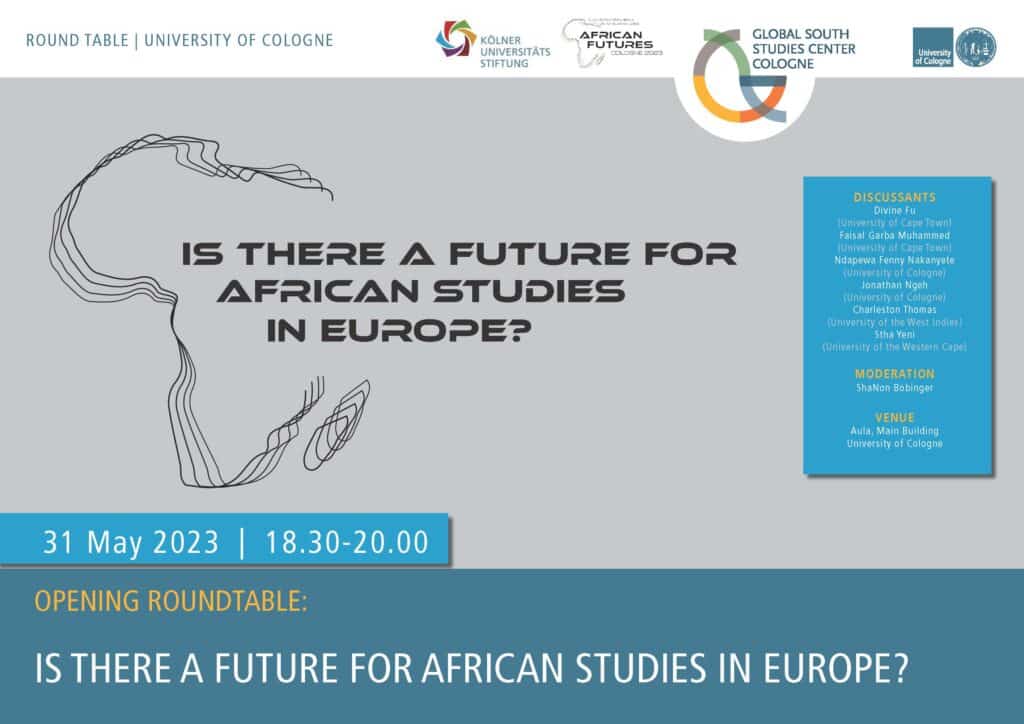 Is there a Future for African Studies in Europe?
It seems contradictory, certainly at first sight. Can a European Conference on African Studies wiggle itself loose from the colonial past? Can one claim to offer spaces for encounters, knowledge transfer and an open exchange of ideas among scholars –from all parts of the world– in a context stained by growing bigotry and racism, by new walls being erected and visas denied? Did we enter a new era of epistemological nationalism? What does this mean for the future of such forms of academic exchange as ours? What is the consequence of the ongoing political and social change in the environment of scientific and scholarly work in a world that we would all like to see as being decolonized, but which isn't?


This roundtable addresses the possibility and opportunities for the future of hosting African-European collaborations by taking serious the voices of young, rising African scholarly talent. Among the questions it addresses: how can we –given the current political context– create a more hospitable environment for scholars and early stage researchers from the Global South? Is there still a place for African Studies in Europe? How truthful are the academy's claims towards decolonizing in a context that seems geared towards turning back the clock?



Moderator:


ShaNon Bobinger
ShaNon Bobinger is a media presenter and systemic life and business coach. the focus of her presenting is on social change, with the aim of using inclusive, multi-perspective and diverse communication to promote interactive dialogue and exchange. As a speaker, ShaNon accompanies teams in companies in their process development towards anti-racist organizations (like Amnesty International, the German Federal Police, GIZ).
Her work as a life coach follows a systemic approach, focusing on personal development in an intercultural context.


Speakers: 


Dr. Charleston Thomas
Dr. Thomas is a linguist, writer and musician from Trinidad and Tobago, whose work continues the tradition of intellectual labour from Tobago, by bringing together research, storytelling, music-making/performing as a pedagogical practice in the dailiness of careful (or carefree) living. Dr Thomas premises his work on the orality of the Caribbean, as well as on (Afro)Caribbean spiritual practices from which he acquired early insights about how to make sense of the world. Dr Thomas thus utilizes the raw materials from his Caribbean yard to inform what he writes, how he writes, what he plays, and how he sings.


Dr. Divine Fuh
Divine Fuh is Director of HUMA – Institute for Humanities at the University of Cape Town, South Africa, where he is also associate professor of anthropology. His work examines the politics of suffering and smiling amongst urban African youth; the politics of African knowledge production, particularly publishing; and the ethics of Artificial Intelligence in African contexts. He has done work in Cameroon, Botswana, South Africa, and Senegal. 


Dr. Faisal Muhammed
Faisal Garba Muhammed is a Senior Lecturer of Sociology at the University of Cape Town (UCT) where he leads the Migration and Mobility research cluster and convenes the Global Studies Programme (GSP).  He works on social theory and knowledge production, migration and mobility, labour studies and social movements and working-class forms of organising.


Ndapewa Fenny Nakanyete
Ndapewa Fenny Nakanyete is a geography lecturer and a doctoral candidate at the University of Namibia (UNAM) and the University of Cologne. She holds an MA in Culture and Environment in Africa from the University of Cologne, a Master's degree in Geographic Information Technologies from the Autonomous University of Barcelona, and a BA in Geography and Sociology from UNAM. Her current main research interests are sustainable livelihoods, indigenous peoples,  decolonising traditional knowledge, global and regional value chains, and rural development. She loves traveling and has so far consciously visited 23 countries in Africa.


Dr. Jonathan Ngeh
Jonathan Ngeh is a Postdoctoral Researcher and a Principal Investigator at the Global South Studies Center (GSSC) Cologne. He received his PhD in sociology from the University of Umeå, Sweden, with a dissertation on the everyday experiences of African migrants in the Swedish city of Malmö. He is engaged in research on Human Trafficking within the context of migration from Africa to the Gulf Cooperation Council (GCC) states. Before moving to the GSSC in 2019, he taught Development Theory and Policy courses at the University of Bamenda, Cameroon.


Stha Yeni
Stha is a PhD candidate at the Institute for Poverty Land and Agrarian Studies, University of the Western Cape (South Africa). She holds a Masters in Development Studies from the International institute of Social Studies, Erasmus University (Netherlands). Her research areas include feminist organizing, land reform, small-scale agriculture, environmental justice and nature conservation. She has over 15 years of work experience in civil society on land and agrarian transformation in South Africa. She was the national coordinator for Tshintsha Amakhaya (TA), a network of 10 civil society organizations working on land, water and food justice in South Africa. Her work at TA centred around building critical consciousness of rural activists, policy advocacy and campaigns. Prior to that, she worked as a rural transformation programme manager at Oxfam South Africa strengthening the capacity of civil society on land and agrarian struggles and at the Land and Accountability Research Centre (LARC) at the University of Cape Town as a researcher. During her time at LARC she was a lead researcher and narrator in This Land, a documentary which highlights land rights violations by chiefs and capital and resistance by the villagers. She is the Next Generation Social Sciences in Africa Fellow (2021-2022) and the Atlantic Fellow for Racial Equity (2018).