Windhoek, Namibia I TUE 28 February 2023


We are thrilled to announce the launch of two books based on research carried out in the Collaborative Research Centre Future Rural Africa.
"Shaping the African Savannah: From Capitalist Frontier to Arid Eden in Namibia" is authored by CRC-TRR 228 speaker Michael Bollig (Project A04 Future Conservation).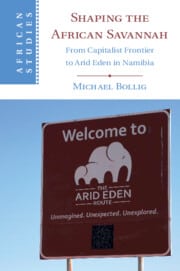 "Conservation, Markets & The Environment in Southern and Eastern Africa: Commodifying the 'Wild' " is co-authored by Michael Bollig in collaboration with Selma Lendelvo, Alfons Mosimane and Romie Nghitevelekwa, our partners from the University of Namibia and researchers in CRC Project A04. The latter publication is the culmination of a CRC funded joint workshop with the University of Namibia (UNAM) at UNAM Katima Mulilo Campus in September of 2019.
Find the Open Access publication here.